Industry Type: Online logistic software. Solutions Provided: CRM.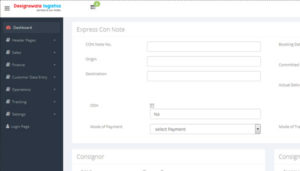 Solution Description:
We worked with one of the reputed logistics company to solve their day to day activities that were carried out manually. Our uniquely designed solution has helped the management to control the expenses while increasing the deliverables to raise their profits. This solution helped their customers and management to track the shipment status thus avoiding the manual intervention. The solution is integrated with e-mail and SMS alerts at stages required.
A word from our Happy Customer:
We have been using manual process for our business since our first day and when VSV Team approached us with their solution case studies. We have opted in and the work was completed on time as required. Today we are able to manage everything in a single solution so that we can concentrate on our business that we are ment for. Thank you VSV Team for your support and wish you all the very best for future ventures.
Client Name: Bhaskar Reddy.
Company Name: TCS Logistics PVT LTD.
Features:
Add/ Edit / Delete Locations
Add/ Edit/ delete Employees
Add/ Edit / Delete employee roles
Add/ Edit/ Delete Customers
Add/ Edit / Delete consignments
Add/ Edit / Delete Expenses
Add / Edit / Delete Packages to the customers
Add/ Edit / Delete Tax rules
SMS and Email notifications at various stages
Reports:
Track the performance of the Locations – daily / weekly / monthly/ annually etc.
Track the performance of the Employees – daily / weekly / monthly/ annually etc.
Track the Expenses – Daily / weekly / monthly/ annually etc.
Live Track the Customers Consignment status.
Live updates on the Transportation
Access to all inventories
Profit and Loss Statement daily / weekly / monthly/ annually etc and many more features in built.
24×7,365 Days Support